Taking a Mobility Scooter to an All-Inclusive Resort
Written by: Guest on May 31, 2023
By Brian G. Miller, The Travel Tutor
You want to vacation at an all-inclusive resort, but you're not sure how to include your mobility scooter? Here are 11 tips for taking a mobility scooter to an all-inclusive resort to help you make the most out of your tropical trip.
1. First you fly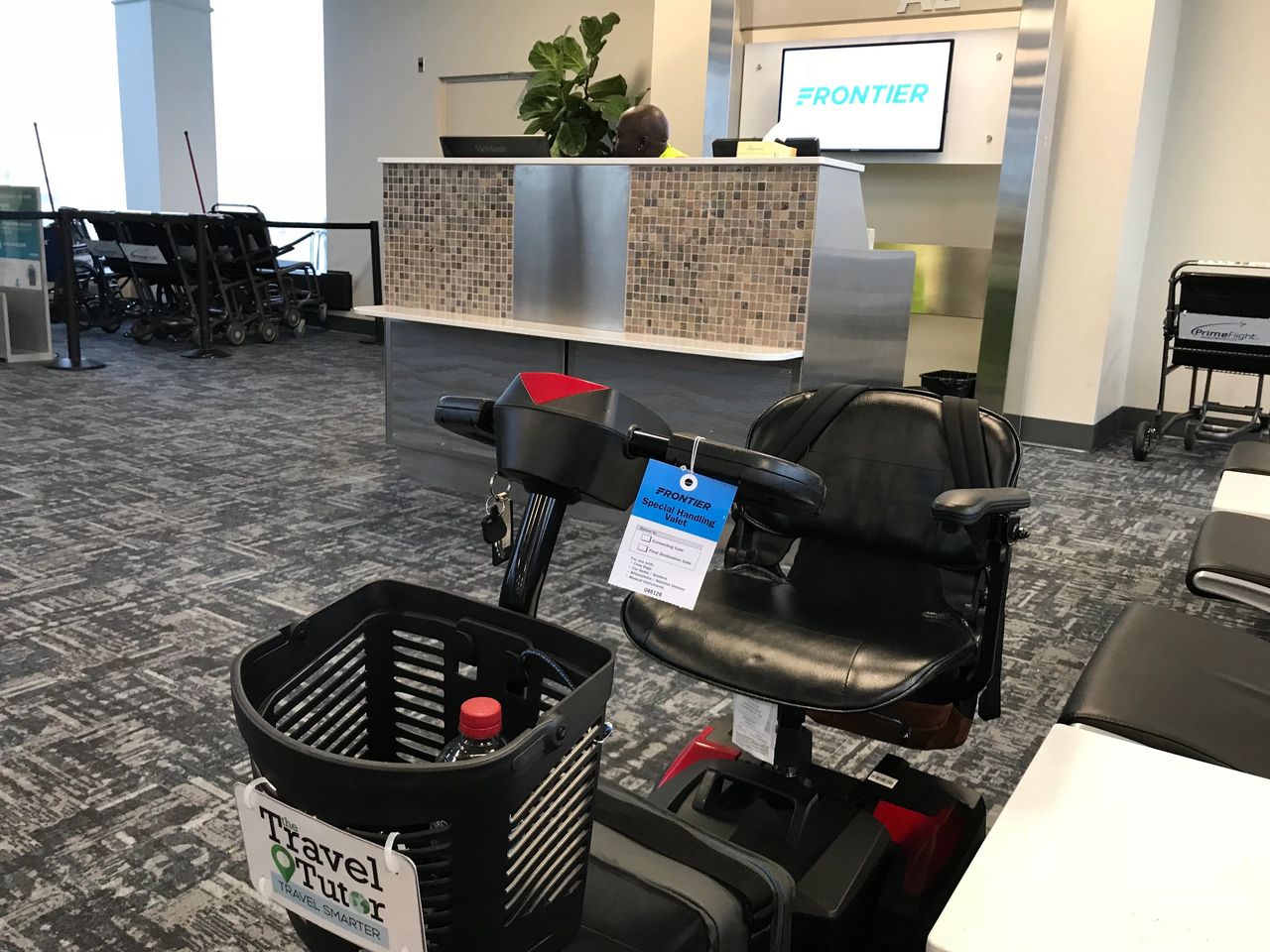 Since there are very few all-inclusive resorts in the United States, your trip is going to involve an airline. Flying with a mobility scooter is convenient and does not cost anything extra. Check out the article on 13 Tips to Help You Fly With a Mobility Scooter for all you need to know. One note: some smaller airports in places like Mexico, the Caribbean, and Costa Rica may not bring your scooter back to the jet way. You may have to get wheelchair help to the baggage pickup area and reclaim your scooter there.
2. Get in on the ground floor
Check with your travel advisor to see if your resort has elevators. If not, make sure you request a ground floor room. Some resorts have accessible rooms, but some do not. (Remember, the Americans with Disabilities Act is only enforceable in the United States.)
3. You need plenty of room on the way to your room
When you or your travel advisor arrange transfers from the airport to the resort, make sure the vehicle will accommodate passengers, luggage, and your scooter. And don't forget to tip the airport attendants and drivers who help load and unload your scooter.
4. A helping hand
If you don't already have a cup holder on your scooter, make sure your get one and install it before you leave home. At The Travel Tutor, we provide our clients visiting all-inclusive resorts with a complimentary stainless cup that is perfect for keeping those unlimited cold drinks cold around the pool or on the beach.
5. Lighting the way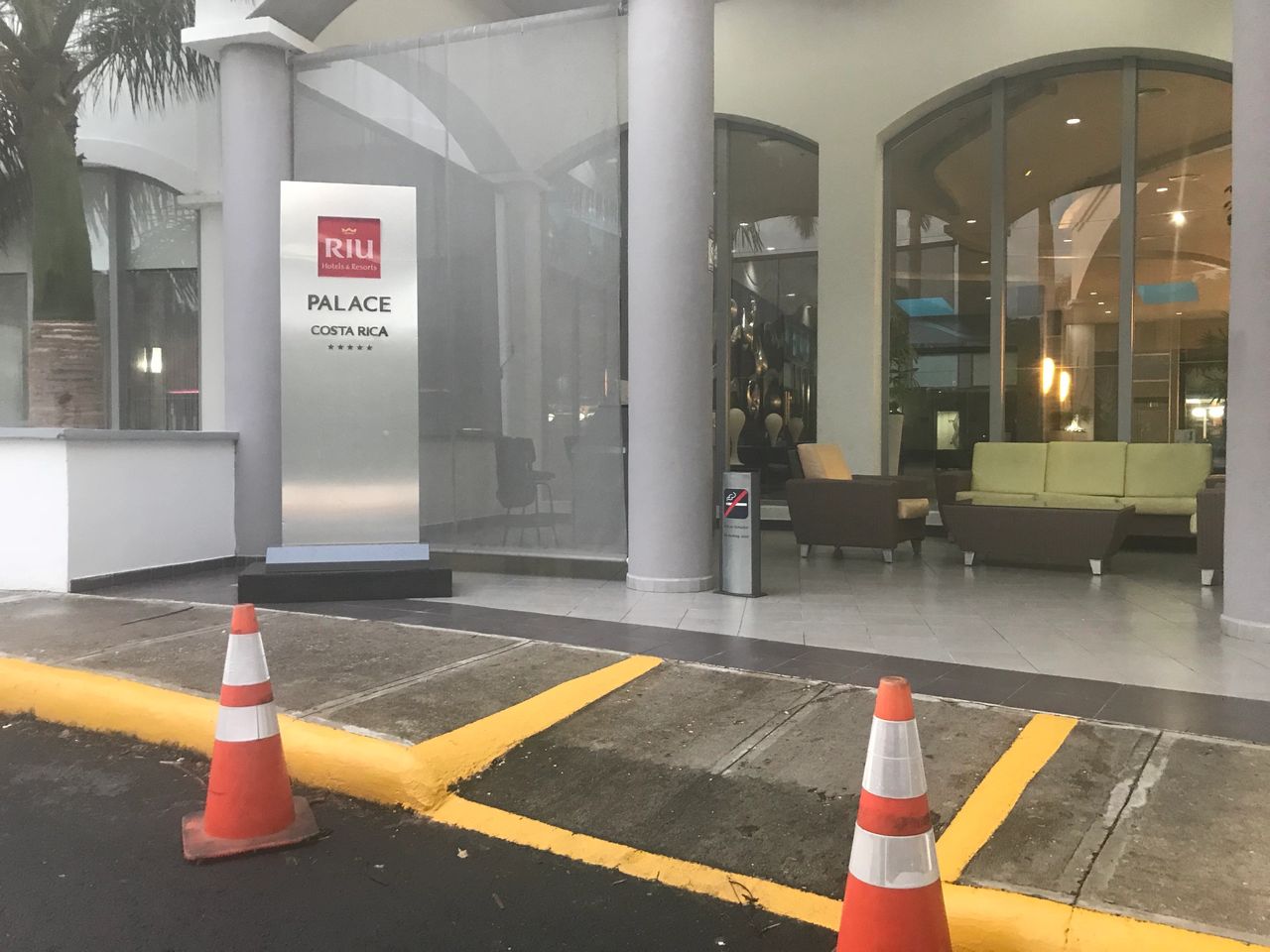 You might consider getting a headlamp for your steering wheel/tiller as well before you leave home. Most all-inclusive resorts are pretty spread-out and many usually have at least one restaurant out near the beach. That means you might find yourself navigating your way in the dark between light posts, so a battery-powered light can be a real help.
6. A spare key is the key to happiness
Put your scooter key on a lanyard and make sure you have a spare key on your regular keychain. This makes it easy to slip your key around your neck when getting on the airplane or leaving your scooter at the edge of the beach. The spare is a lifesaver if your first key breaks while traveling, as mine did on a recent Alaskan cruise.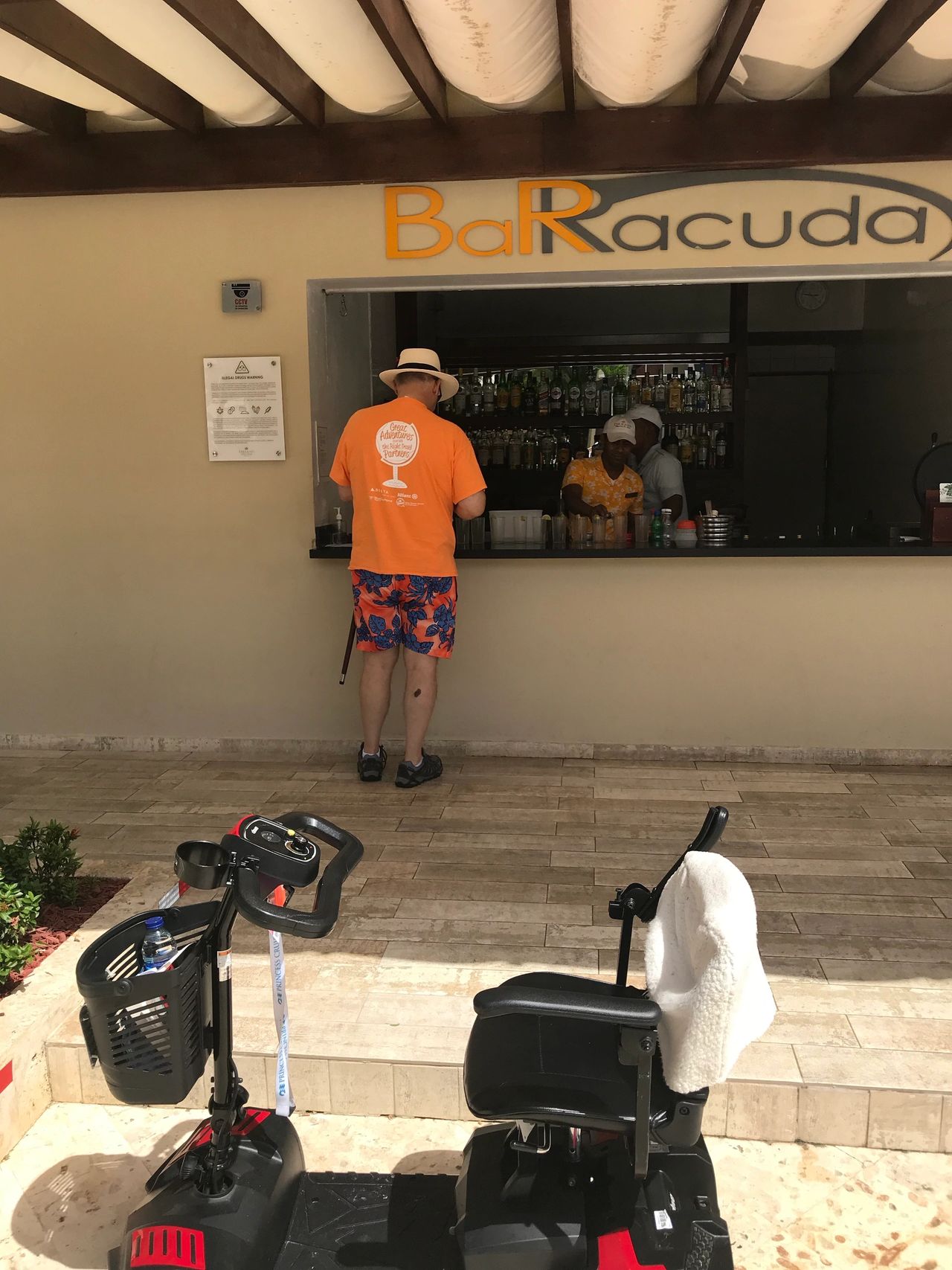 7. Check in and then check it out
Once you arrive, take a look around the resort to see where things are and, more importantly, how you can get there on your scooter. While there are usually some ramps on the property, they may not always involve the shortest route to get you from point A to point B. Don't hesitate to ask any of the friendly resort employees.
8. Life's a beach
Some beaches have a hard surface and allow for at least some scooter travel, but most are just too soft and will require that you park at the edge of the resort. Either way, you'll likely end up with sand on the running board of your scooter. Use a towel to brush it away outside before you get back to your room. If you'll need a beach wheelchair once you leave your scooter, ask your travel advisor to arrange that in advance.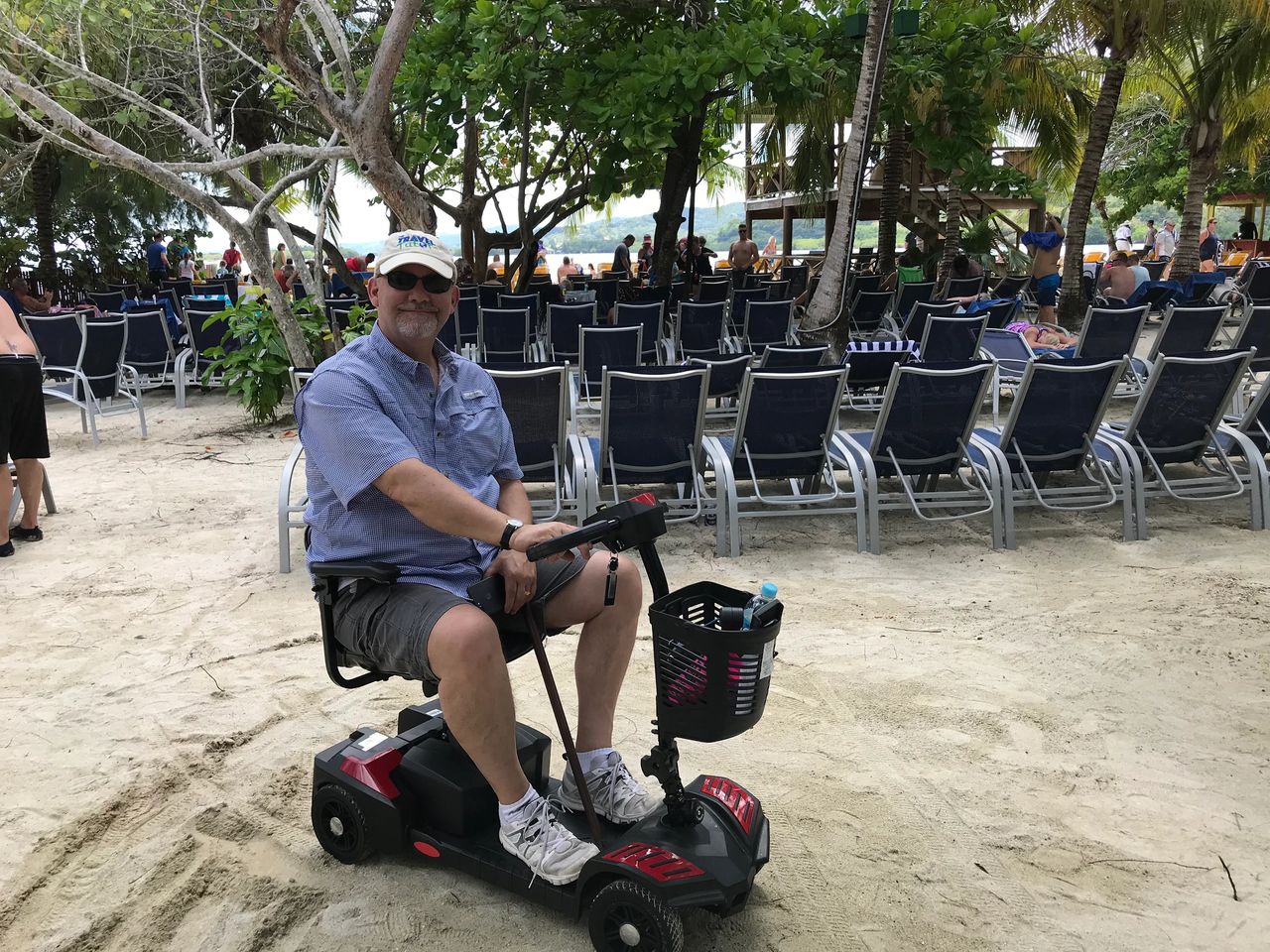 9. Just charge it
Make sure to bring your charging cord and keep your batteries topped off as needed. While you'll find lots of scooters on a cruise ship and might be able to borrow a cord in an emergency, the chances are much slimmer at an all-inclusive resort. So make sure to bring your own charger and even a power strip.
10. Stay dry
All-inclusive resorts tend to be in beautiful, but occasionally rainy, locales. Most resorts have umbrellas in the rooms that you can use. If the precipitation becomes too much for your scooter's participation, there's always free room service.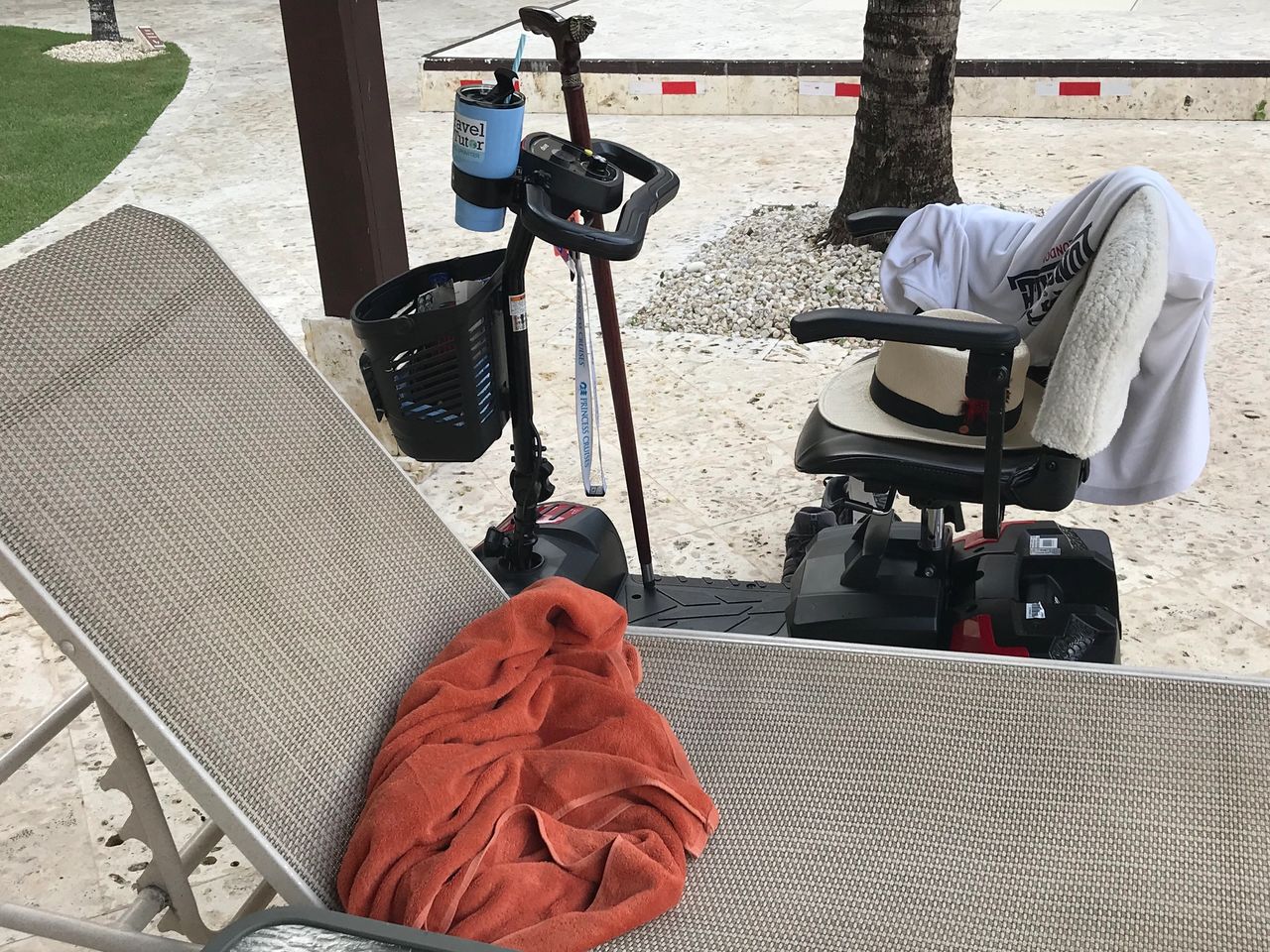 11. Your table is ready
Most all-inclusive resorts have a large buffet-style restaurant (or two) and several smaller specialty restaurants. You can usually stay in your scooter right to your table or park it nearby. But check with the maître d' and let them know what you need. Unfortunately, some restaurants are up a flight of steps without an elevator. Your best bet is to discuss your specific needs with the service desk when you check in to see what options are available to you.
Traveling with a mobility scooter to an all-inclusive resort is not a lot of extra work. People are usually willing to assist you when needed, and it can open up the world to people who might not otherwise go.
---
Photos by Brian G. Miller.
Brian G. Miller is a travel advisor and writer with The Travel Tutor in Louisville, Kentucky. He specializes in ocean cruises, group travel, accessible travel, and bourbon tourism. He also writes about bourbon at The Bourbon Tutor.